The winners for the 2019 Chip Group Industry Awards:
Bidfood People's Choice 2019: Steve and Monica Fair from Mr Chips Masterton, for the 3rd year running, most popular Chip Shop in New Zealand with 26.2% of the 7791 votes.
Regional Finalists for People's Choice 2019:
Gourmet Seafoods QE11, Christchurch
Calypso Takeaway, Kerikeri
Oceanz Seafood, Botany
The Naked Chip, Waimate
Oppies Takeaway, Rotorua
Judges' Supreme Award 2019: Graham and Karen Chard from Okato Takeaways. They received glowing evaluations from our Mystery Shoppers and a healthy 7.2% fat in their fries. This is a shining example of the success achieved through utilising our Ministry of Health advised Best Fry Practice Online Training.
Highly Commended Judges' Supreme 2019:
Victory Square Fish & Chips, Nelson
The Chip Shop Royal Oak, Auckland
Calypso Takeaway, Kerikeri
Northcross Takeaways, Auckland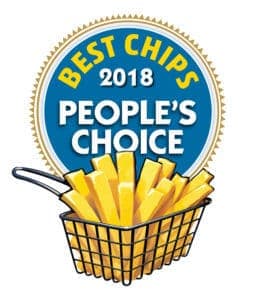 Competition was fierce with the People's Choice winner being Mr Chips, Masterton!
Top 15 Finalists:
Mr Chips, 22 Chapel St – Masterton
Pirimai Chippy, 15 Allen Berry Ave, Pirimai, Napier – Hawkes Bay
Oceanz Seafood Silverdale, 17 Hibiscus Coast Highway, Silverdale – Auckland
Tommy Haddock's, 16 Bledisloe Rd, Maraenui, Napier – Hawkes Bay
Victory Square Fish & Chips, 176 St Vincent St, Toi Toi – Nelson
Chip n Dayals Fish and Chips, 71 Marua Road, Ellerslie – Auckland
Oceanz Seafood Botany, 451 Ti Rakau Dr, Huntington Park – Auckland
Okato Fish and Chips, 63 Carthew St, Okato – Taranaki
Ruby Bay Kitchen, 172 Stafford Drive, Ruby Bay, Mapua – Nelson
Fish Stop, 4 Glendale Rd, Glen Eden – Auckland
Spudz Fish and Chip House, Unit 4/1 Caslani Lane, Tauriko – Tauranga
Sheff's Takeaways, 714 Grey St, Hamilton East – Hamilton
Master Fish 'n' Chicken, 24 Bureta Rd, Bureta – Tauranga
Ric's Galley Takeaways, 1 Harington Point Rd, Portobello – Dunedin
Northcross Takeaways, 178 Carlisle Rd, Northcross – Auckland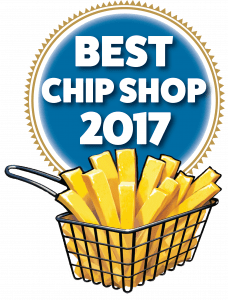 The winner of the Best Chip Shop 2017 was So Fine Seafoods in Lower Hutt, Wellington.
The 7 Regional Winners for the Best Chip Shop Competition 2017 were:
Northland & North Shore: Northcross Takeaways, Browns Bay
Auckland: Oceanz Seafood Botany, Auckland
Waikato/Bay of Plenty: Welcome Bay Takeaways, Tauranga
Central Regions: Okato Takeaways, New Plymouth
Greater Wellington: So Fine Seafoods, Lower Hutt
Lower South Island: The Naked Chip, Waimate
Upper South Island: Gourmet Seafoods Shirley, Christchurch
51 Regional Finalists in Best Chip Shop Competition!
51 stores across New Zealand received Highly Commended Chips awards, and with it the title of Regional Finalists in the Best Chip Shop Competition.
Northland & North Shore – Kippers Takeaway, Kuna Quality Takeaways, Oceanz Seafood Silverdale, Northcross Takeaway, Porthouse Bar & Eatery and Realfresh Seafood Birkenhead
Auckland – Bunters Takeaway, Choice Food Bar, Double Dutch Fries, Fish and Ships, Fish Pot Cafe, Fishy Business, Kohi Fresh Fish, LJ's Waitakere, Mangere Bridge Takeaways, Oceanz Botany, Panmure Fish & Chips and Waves Seafood
Waikato & Bay of Plenty – Coromandel Oyster Company, DK'S Burger Bar, Grey St. Chippery, Kiwi Taste, Master Fish 'n' Chicken, Queen Vic Chippy, Springfield Takeaway, Welcome Bay Takeaways, Wong's Kitchen and Young's Kitchen
Central Region (including Gisborne, Hawkes Bay and Taranaki) – Halfway House Takeaways, Hawera Seafoods & Chinese Fast Foods, Okato Takeaways, Pirimai Chippy and Elgin Fish & Chip Shop.
Greater Wellington (including Manawatu & Whanganui) – Corfu Seafoods, Fish King (Pahiatua), Fish King Fielding, Fish Masterton, Fishtown Takeaways, Mac's Fresh Fish & Chips and So Fine Seafoods.
Upper South Island (including Nelson, Marlborough, Tasman, West Coast & Christchurch) – Big Gary's Riccarton, Gourmet Seafoods Shirley, The New Funky Fish, Victoria Seafood Bar, Victory Square Fish n Chips, Cashel Street Takeaways and Village Foods Oxford.
Lower South Island (including South Canterbury, Otago & Southland) –  Fox Street Takeaways, Padi Kitchen, The Naked Chip and Waimate Takeaway.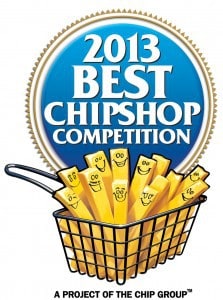 The 2013 National Winner was Oceanz Seafood Silverdale, Silverdale
Regional Finalists were:
Greenwoods Fresh Catch, Epsom
Queen Vic Chippy, Cambridge
Fish King Takeaways, Fielding
Victory Square Fish and Chips, Nelson
The Naked Chip, Waimate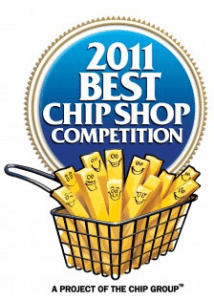 The 2011 National Winner was Oppies Takeaway, Rotorua
Regional Winners 2011
Oceanz Seafood Silverdale, Silverdale
Oceanz Botany Downs, BotanyVictory Square Fish & Chips, NelsonMac's Fresh Fish and Chips, MastertonRic's Galley/Portobello, Dunedin
Regional Finalists 2011
North of Auckland Region:
Oceanz Seafood Albany, Albany
Oceanz Seafood Silverdale, Silverdale
Adriatic Fisheries, Whangarei
Kipper's Takeaways, Orewa
Central North Island Region
Oppies Takeaway, Rotorua
Hot Stuff Takeaways, Ngaruawahia
The Frying Dutchman, Napier
Pirimai Chippy, Napier
Halfway House Takeaways, Hawkes Bay
Auckland Region
Big J's Takeaways, Auckland
Oceanz Botany Downs, Botany
Fish Stop, Auckland
The Chip Shop, Auckland
Westgate Takeaways, Auckland
Upper South Island Region
Victory Square Fish & Chips, Nelson
The Sands Fish & Chips, Tahunanui
Seabreeze City Takeaways, Nelson
Codfathers Takeaways, Blenheim
Coopers Catch, Kaikoura
Lower North Island Region
So Fine Seafood, Lower Hutt
Fish Spot The Plaza, Palmerston North
Mac's Fresh Fish and Chips, Masterton
Fish, Masterton
The Groper, Stratford
Lower South Island
Hassall Street Takeaways, Timaru
Ric's Galley/Portobello, Dunedin
Golden Cobwebbs Restaurant, Alexandra
Morington Takeaways, Dunedin